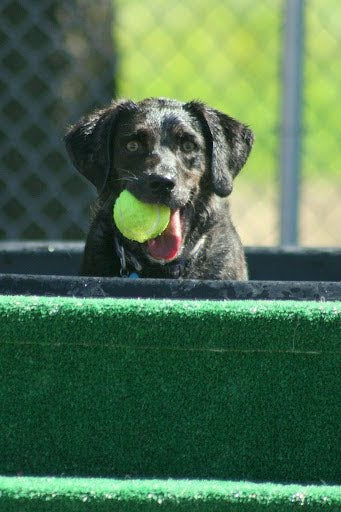 Daycare is by reservation only, on a first come, first serve basis. Please call 608-271-4212 x3 to make a reservation.
All dogs go through a daycare evaluation done by our staff. They must pass the daycare evaluation to be allowed into group play to ensure the safety of everyone. Daycare evaluations and new client forms may take up to 10-15 minutes so please plan accordingly! Reservations are required.
Your dog will run and play with human and canine friends in a safe, clean environment. From a game of fetch, to splashing in the above ground wading pools(weather permitting), to a relaxing ear rub, your dog will have a great day! All rooms are climate controlled and were built and designed specifically for doggy daycare.
All dogs must be vaccinated for Bordetella, Distemper, and Rabies. Additionally, you must provide proof of a negative fecal result testing for parasites and worms within the last 12 months.
Dogs over the age of 6 months must be spayed/neutered to be enrolled in daycare or board in the Bunkhouse.
All dogs must be on flea and tick preventative. Dogs showing signs of fleas will be treated at owner's expense. Scheduled applications are available, please inquire.
Please keep pets showing signs of flu or diarrhea at home, or notify staff before bringing in for day boarding for the safety of everyone.
Day Boarding
For those dogs who prefer human company to canine company, this is the place for you. We offer day boarding in individual kennels. Private indoor/outdoor runs allow your dog to come and go as he/she pleases (weather permitting). There are also many extra one-on-one services available. Lunches and treats provided by owner are dispensed at no charge. Reservations are required for dayboarding.